Salesforce's Groundbreaking Bi-Directional Data Integration with Databricks and Snowflake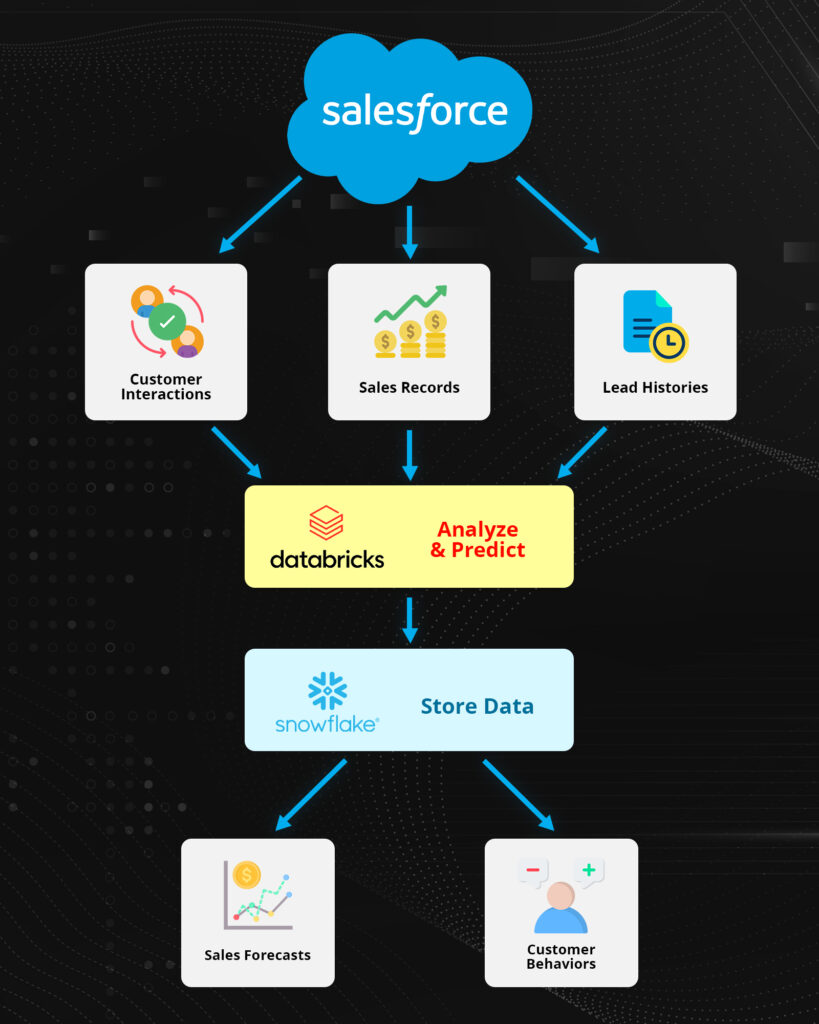 In an era where data is as valuable as gold, the ability to smoothly connect and utilize it has become crucial for businesses. Salesforce, the leader in customer relationship management (CRM) solutions, has once again raised the bar by announcing an exciting partnership with Databricks and Snowflake. This collaboration is set to redefine how businesses manage and leverage their data.
A New Era in Data Integration
Under the visionary leadership of Marc Benioff, Salesforce is making significant strides by expanding its Salesforce Data Cloud. The centerpiece of this expansion is the introduction of bi-directional data integration with two major players in the data analytics and cloud computing industry: Databricks and Snowflake.
Empowering Data for Business Challenges
The primary goal of this partnership is to empower joint customers to harness the full potential of data in real-time. By integrating with Databricks' data lakehouse platform, Salesforce users can enhance their datasets and create advanced models to address critical business challenges. Adam Conway, SVP of Products at Databricks, highlighted the importance of combining reliable data with AI, commending the partnership with Salesforce.
Competitors Join Forces for Data Excellence
Notably, Snowflake, a prominent competitor in the cloud data warehousing sector led by Ali Ghodsi, has also formed a strategic alliance with Salesforce. This collaboration will enable seamless integration between their respective data platforms, marking a significant departure from traditional data integration methods.
The BYOL (Bring Your Own Lake) Innovation
Historically, data integration has involved complex ETL (Extract, Transform, Load) processes. Salesforce is changing the game by introducing a zero-ETL integration approach known as BYOL (Bring Your Own Lake). This revolutionary approach streamlines unified data management while upholding robust governance, security, and trust.
BYOL encompasses two essential features:
Data Sharing: This feature allows access to Salesforce data within Databricks or Snowflake, enabling the enrichment of customer profiles and enhancing customer experiences within existing applications and processes.
Data Federation: Data Federation permits access to information from Databricks and Snowflake platforms within Salesforce Data Cloud. This bi-directional data exchange is a game-changer for users, as it strengthens data foundations and empowers downstream applications like AI/ML and in-depth analysis, resulting in improved business outcomes.
Empowering Businesses Across the Spectrum
The advantages of this bi-directional data exchange are extensive. On Salesforce, external data from Databricks and Snowflake enriches customer profiles, facilitating more personalized customer experiences. Conversely, Salesforce CRM data on Databricks and Snowflake strengthens the data foundation of these platforms, empowering downstream applications like AI/ML and in-depth analysis, ultimately leading to enhanced business outcomes.
Real-World Applications
Consider this practical scenario: By merging Salesforce CRM data with market analysis in Databricks, users can create customized cross-selling models based on real-time client engagement data. Similarly, combining Salesforce data with external market trends in Snowflake allows retailers to identify shifts in customer behavior, enabling smarter inventory management and marketing strategies.
A Promising Future
While Snowflake users can also develop custom AI models, Databricks users will be the first to receive support for migrating their models to the Salesforce Data Cloud. This means that Databricks users can harness the power of the Salesforce platform to enhance their data-driven capabilities.
In a world centered around data, Salesforce's bi-directional data integration with Databricks and Snowflake is a game-changer. It simplifies data management, elevates customer experiences, and empowers businesses to make informed, data-driven decisions for their success. As this partnership continues to unfold, we anticipate witnessing even more innovation in the field of data integration and analytics. Stay tuned for the exciting developments ahead!
How Micronetbd will help you?
Micronetbd is your key to unlocking the potential of Salesforce's bi-directional data integration with Databricks and Snowflake. Being the authorized Salesforce partner since 2012, we'll expertly guide you through this game-changing collaboration, helping you merge CRM data with market insights and make data-driven decisions. Trust us to streamline your data management, elevate customer experiences, and optimize your business strategies. Join us on this transformative journey towards a more data-driven future.