According to a Salesforce news release, at the end of 2022, you will no longer be able to create new Process Builders or Workflow Rules. While your existing Workflow Rules and Process Builders will continue to work, you will not be able to develop new automation using Salesforce Workflow Rules and Process Builders. So, what about the new automation then? You must be having this question.
Solution: Flow.
That is right, Salesforce wants you to create new automation using Flow instead of Process Builder & Workflow Rules.
But why Flow?
Flow has many advantages over Process Builders and Workflow Rules
Flow is more efficient and runs faster.

Flow has more significant system limits when processing large numbers of records.

Flow is not tied to any one object.

Flow can look up, create, update, and delete records for multiple objects.

Flows can provide screens to guide users through the business process.
But what about the word "retirement?" What is the future of your current automation in the long term?
The word retirement can be nerve-wracking for admins who have yet to master Flow or organizations that have a lot of workflow rules or processes. The good news is Salesforce has not announced any end-of-life (EOL) timeframe, and Workflow Rules and Process Builder will continue to work. In the long run, Salesforce wants users to migrate to Flow from Process Builder and Workflow Rules. However, that will be done only after advanced notice so you have plenty of time to learn Flow.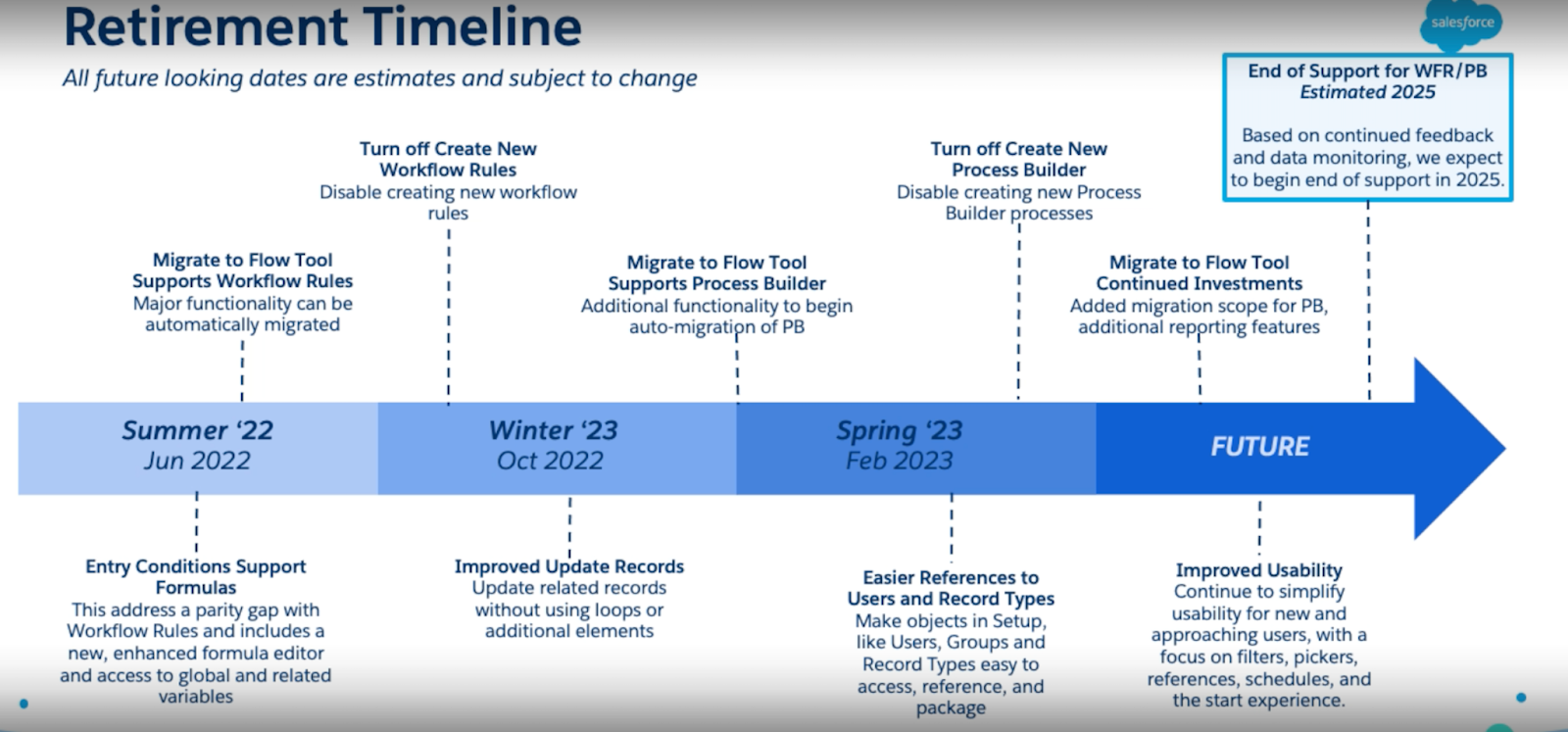 How can you move all your existing automation to Flow?
Salesforce wants to develop Flow as a one-stop shop for low-code automation. Hence, it expects its users to gradually migrate their business from existing automation to Flow. To support this migration, Salesforce has released a tool to convert Workflow Rules and Process Builders to Flow.
What can MICRONETBD do for you to start preparing your organization for this change?
First and foremost, MICRONETBD will help you start building new automation in Flow and get the organization comfortable. The transition to Flow can be a mountainous task for those of you who have become Process Builder rockstars or have Workflow Rules built years ago. Flow architecture is not something you can do overnight. Planning and experienced input into your automation is critical to overall business infrastructure. MICRONETBD is ready to help you navigate these changes. Our Salesforce Architects, Business Analysts, Solution Consultants, and Developers are ready to implement tailor-made solutions to bring your organization into the next phase of business automation technology.